David Weiss Sextet at The Sequoia Room
When
Sat, April 13, 2019
7:30 pm
About
David Weiss Sextet
David Weiss has distinguished himself through finding flexibility and innovation in music that has its roots in the mainstream. The trumpeter, composer, and arranger has had the opportunity to learn from some of the music's quintessential figures by touring and/or recording with the likes of Freddie Hubbard, Charles Tolliver, Billy Harper, Bobby Hutcherson, Slide Hampton, James Moody, Tom Harrell, Louis Hayes, Muhal Richard Abrams and Billy Hart among many others.
WATCH
Joe Seta uploaded this event on February 6, 2019
Start your ticket shopping from Jazz Near You and you'll support us in the process. Learn how.
David Weiss
When Words Fail

David Weiss
Endangered Species

Album Reviews
Jazz Near Me
Jazz Raconteurs
Album Reviews
Interviews
Album Reviews
Live Reviews
Album Reviews
Interviews
Album Reviews
Read more articles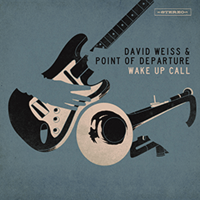 Ropeadope
2017
buy
Motéma Music
2014
buy
Posi-Tone Records
2013
buy
Motéma Music
2013
buy